ISA Level 2 Surf Coaching Course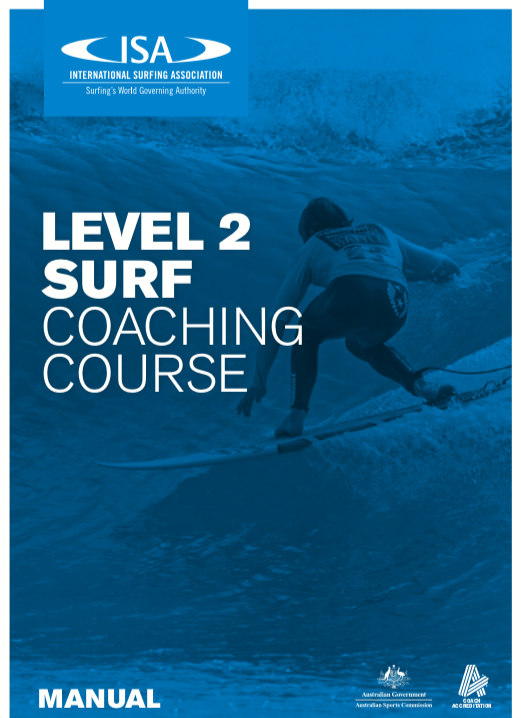 ISA Level 2 Surf Coaching Course
ISA Surf Level 2
This course is designed to build on the fundamental skills offered in the ISA Surf Level 1 course by further the development of surfing skills and ocean knowledge of participants. This course is recommended for lead Surf Instructors, management staff at Surf Schools, Surf Coaches, surf clubs, and surf teams.
Prerequisites: ISA Surf Level 1 Certification
Follow Up Requirements: In order to receive the ISA Surf Level 2 certification from the ISA you MUST complete the following within one year, in addition to sitting the course:
* ISA Surf Level 2 Workbook with signed Coaches Code of Conduct

* 30 documented practical hours after the course
- Participants can document hours by logging their next 20 hours of surf instruction in their ISA Surf Level 1 Workbook. This can be accomplished by teaching at surf schools, volunteering with non-profit organizations that host surfing clinics, or through private instruction.
- Participants send their Session Notes and Venue Analysis records (included in the ISA Surf Level 1 Workbook) every 5 hours of surf instruction to their Course Presenter via email for analysis and comment (checking in after instructing 5, 10, 15, and 20 hours).

*Obtain and maintain a valid Water Safety Certification - can be obtained through ISA/ILS, Water Safety Specialists, Red Cross, YMCA, or comparable nationally recognized certifications
ISA/ILS Surf Instructor Aquatic Rescue and Water Safety Course

Water Safety Specialist, "Surfing Instructor Safety Training"

American Red Cross, "Lifeguarding"

Miramar College, "Introduction to Open Water Lifeguard"

Other nationally recognized certification whose curriculum is comparable and approved SEA
REGISTRATION DEADLINE: 15 DAYS PRIOR TO COURSE
* PLEASE NOTE: THERE MUST BE A MINIMUM OF 8 PARTICIPANTS REGISTERED BY THE REGISTRATION DEADLINE FOR THE COURSE TO TAKE PLACE. IN THE EVENT THAT THERE ARE NOT ENOUGH PARTICIPANTS TO RUN THE COURSE, THE COURSE WILL BE CANCELED AND PARTICIPANTS WILL BE REFUNDED IN FULL. SURF EDUCATION ACADEMY IS NOT RESPONSIBLE FOR ANY INCONVENIENCE, TRAVEL PLANS, ACCOMMODATION BOOKINGS OR LOSS OF MONEY THAT MAY RESULT FROM A COURSE BEING CANCELED.
sold out
PLEASE NOTE:
Follow Up Requirements: In order to receive the ISA Surf Level 1 certification from the ISA you MUST complete the following within one year, in addition to sitting the course:
- ISA Surf Level 1 Workbook
- 20 documented practical hours
- Obtain a valid Water Safety Certification (Red Cross CPR for Professional Rescuer or equivalent) - can be obtained through ISA, Red Cross, YMCA, Water Safety Specialists or comparable certifications